Punta Gorda Elks Lodge #2606

THE FRIENDLY LODGE ON THE BEAUTIFUL PEACE RIVER
25538 SHORE DR.
PUNTA GORDA, FL 33950
(941)637-2606

SOUTH SOUTHWEST District No.
2020
DON'T MISS OUT ON WHAT IS HAPPENING AT LODGE #2606,
SIGN UP TO RECEIVE THE FREE ELK'S WEEK AT A GLANCE!!!!!
To join our mailing list to receive the Elk's Week at a Glance (Our new weekly email), Click on the "join our mailing list' icon. The Elk's Week at a Glance summerizes the daily happenings and upcoming events that will be going on in our lodge. Also coupon specials will be available from time to time.
If you happen to block one of our emails then you will not be able to receive ANY of them. Please just email a request not to receive a certain email to pgelkscabins@comcast.net or pgelksinc@comcast.net. If you do block us and would like to get back on the mailing list you must click join our mailing list, either on this page of our website or on a weekly email that you may have received in the past. Then send a separate email stating which emails you would like to receive. We want to keep you informed, not bothered with unwanted emails.

For Current Elks Tale Please Click On the link below
files.ctctcdn.com/159b2888101/4eff1703-f4ce-4b91-b0ab-51c765b4bd34.pdf
Secretary & Treasurer Office
Open Monday -Thursday from 9:00A.M-2:00P.M., Friday 9am-12pm. If calling please dial ext. 404
For Lodge 2606 news and current news letter please click here

elks.org/lodges/home.cfm
Eagle's Nest Lounge
Lounge/Bar opens Monday - Saturday at 11 AM and Sunday at Noon. A light lunch is available in Bar Monday thru Saturday ( full menu on Friday). Bar food is available Wednesday thru Saturday from 2-8p.m. The name "Eagle's Nest" comes from the early 1900's when our Lodge was a famous hunting and fishing lodge. There was an Eagle's Nest in one of the larger tree's on the property. If calling please dial ext. 409


Eagle's Nest Restaurant
Restaurant open; for Monday Night Chicken 4:30 to 7:30PM. Lunch is served 11am-2pm on Friday. Regular dinner menu is served Wednesday thru Saturday at 5 PM. Many tables provide a beautiful panoramic view of the Peace River and upper Charlotte Harbor. Outdoor Picnic on the Water every 3rd Sunday of the month and the Annual Steak Roast the 4th Sunday of March. If calling please dial ext. 450
Eagle's Nest Cabins
Cabin Rentals are available to Elk's and their Guest's by the day, week or month. Cabins include kitchens, bathrooms and sleeping facilities for up to 4 people. To view more information please go to the Cabin page or Cabin availability page
For reservations or information, call (941) 637-2606 ext.401 or email pgelkscabins@comcast.net

Punta Gorda Elks Dock
The dock is 550 ft long and was completely rebuilt in 2003 after the old dock was destroyed by a "No Name" storm in 2001. During Huricane Charley the dock remained in place but took on a pronounced "serpent" appearance and had to be re-set. The depth of the water at the end of the dock varies from less than 2 ft. at very low tide to more than 4 ft. at hightide. The depth decreases gradually as you move closer in toward the seawall. Members and guest are allowed to fish from the dock and tie up their boats for day events at the lodge.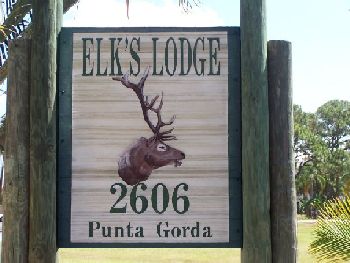 Punta Gorda Elks: Directions
Located on the beautiful Peace River in Punta Gorda, FL. For driving directions please listen to the recording at: (941) 637-2606 dial 1 . Or click MAP